Cambridge Hybrid Fountain Pen in Sterling Silver and 24k Gold in Tru Stone.
Submitted by craig on Sun, 10/16/2011 - 11:30pm.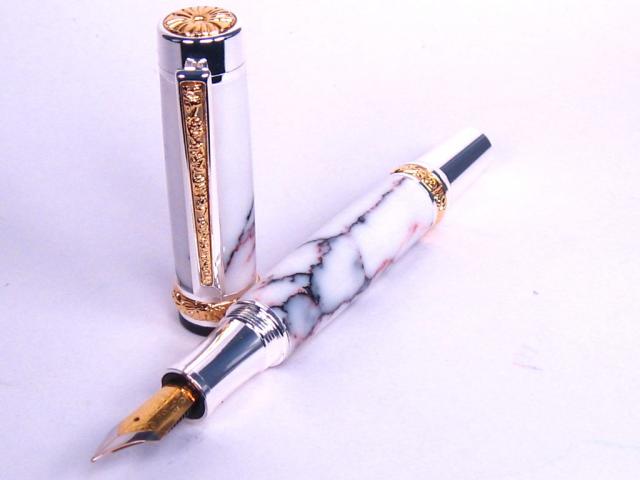 The Cambridge styling features intricate patterns hand-buffed and raised designs on the nib ring, center ring, clip center and finial top. Multiple finishes subtly accent the surrounding components. The screw top cap is non-postable while the Iridium nib is an 'S' class width. The nib can use standard Parker style puncture refills, or the included reverse ink pump. Overall wight is 58 grams (body: 29 grams, cap: 29 grams). The body measures in at 122 mm in inches by 15 mm in diameter, while the cap is 62 mm in length by 16 mm in diameter. Overall closed length is 140 mm. The fountain pen is dressed in Wild Horse Jasper Tru Stone. Tru-Stone Pliable pen blanks are made from approximately 85 natural stone ore that is pigmented and combined with a gem resin. The resin, which is specially formulated for the pen turning industry, allows for higher heat tolerances so the blank is less susceptible to fractures or breakage when using standard woodturning tools.