Pen Pricing
Submitted by craig on Thu, 10/04/2007 - 9:46pm.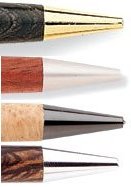 The following is a estimated pricing guide for what I typically charge to turn a pen/pencil (including all material and hardware). The pricing does not include any shipping charges. If you need a gift box, please contact me and I can give you pricing and style options. The pens listed are straight single stock cuts (no
segmented turnings
). If you are interested in having a custom segmented creation, e-mail me and I can provide an estimate. Prices are estimates only as prices on certain material change often depending on the season.
A word on plating (image on the left top to bottom: gold, satin, black titanium, chrome/platinum): Gold plated kits are the most common and usually the most inexpensive, but being a soft metal will wear off over time. Satin finishes will hold up better the standard gold plating and are available in a wide variety of colors. Black Titanium is very hard and durable and will last a very long time. Platinum and Chrome, like the titanium finish, is very hard and durable and compliments darker colored woods and acrylics.
Woodworking is a hobby and an escape from my job working in Information Technology, so I only have time to produce a limited number of items. Since my garage is not heated and I reside in northwest Ohio, I also have a three month block of time I go on hiatus (usually December through February).
Inventory pens will probably vary from this pricing guide as they may be segmented or may be made from rare and exotic materials like antler.
Material Option
Style
Domestic
Exotic
Acrylic
European Gold/Black (example)
$27.00
$30.00
$30.00
European Satin
$27.00
$30.00
$30.00
European Platinum (example)
$30.00
$35.00
$35.00
European Black Titanium (example)
$32.00
$37.00
$37.00
European Letter Opener Gold
$27.00
$30.00
$30.00
European Letter Opener Platinum
$32.00
$37.00
$37.00
Classic Slim Line Chrome/Gold/Satin (example)
$27.00
$29.00
$29.00
American Slim Line Gold (example)
$27.00
$29.00
$29.00
Classic Fountain Cobalt Pen Gold (example)
$30.00
$35.00
$35.00
Classic Rollerball Cobalt Gold(example)
$30.00
$35.00
$35.00
Atlas Gold/Black
$25.00
$30.00
$30.00
Atlas Platinum (example)
$27.00
$32.00
$32.00
Bracelet Assistant (example)
$18.00
$23.00
$23.00
Artist/Sketch Pencil (with 6 pack colored refills) (example)
$35.00
$38.00
$43.00
Baron Rollerball (example)
$50.00
$55.00
$55.00
Sculpted Designer (example)
$30.00
$35.00
$35.00
Gatsby/Wall Street II (example)
$35.00
$40.00
$40.00